PCB Production Capabilities
PCB Fabrication & Assembly Capabilities of China Manufacturer
PCB Fabrication & Assembly Manufacturer China
Custom PCB Fabrication Capabilities
JHYPCB, located in Shenzhen, China, is a leading manufacturer of printed circuit boards. With over 10 years of experience, we use the latest technology and equipment to provide advanced PCB manufacturing services while strictly adhering to high-quality standards. Our quality management system is certified by RoHS, ISO 9001:2015, IATF 16949:2016, SGS, and UL.
We specialize in manufacturing PCBs for various industries, including Aerospace, Defense and Military, Telecommunication, Medical, Renewable Energy, and more. Our reliable process and quick turnaround time ensure that we can meet the demand for new types of electronics while providing the best possible cost to our clients.
At JHYPCB, our core competency is providing a hassle-free process from the initial inquiry to the final delivery of the finished circuit boards. Our team of experts anticipates problems before they occur, ensuring that the entire process is smooth and stress-free for our clients. We also offer offshore PCB manufacturing services based on client requirements.
We Delivery the Following PCB Manufacturing Capabilities & Core Competences
Golden Fingers PCB
RoHS Printed Circuit Board
Quick Turnaround Time
Prototype Quantities
Production Runs
1-64 Layers
Rigid, Flex, and Rigid-Flex Boards
High-density interconnect (HDI)
35:1 Drill Aspect Ratio
Board thickness 0.25 ~ 3.20mm
Maximum Panel Size – 24″ x 31″
Blind / Buried Vias & Micro Vias
Via In Pad with Fill Options (non-conductive, conductive)
High Copper Thickness up to 15oz
-/+ 5% Impedance Tolerance
Min. trace width/space 3/3mils
Edge plating (half-hole)
IPC Class 2/ Class 3
Advanced and Exotic Materials
High-Tg FR-4
RoHS Compliant Options
Nelco
Rogers
PI
Shengyi
IT180
High-Speed Digital Options
High-Frequency RF Options
Aluminum Clad Options
Copper Core Options
Pb-Free HAL
Hard Gold
Soft Gold
Selective Finishes
Green
Black
Purple
Orange
Red
Blue
Yellow
White
Clear
In-circuit Testing (ICT)
Flying Probe Testing (FPT)
Automated Optical Inspection (AOI)
X-ray Inspection
Continuity Testing
Isolation Testing
Netlist Testing
Impedance Testing
Environmental Testing
Rapid Quote Response
version management
DFM Review & Analysis
Panelization
Cost Consulting
Stackup Design
Surface Finish Consultation
Laminate and Raw Material Consultation
PCB Assembly Capabilities
At JHYPCB, we go beyond being just a manufacturer of prototype printed circuit board assemblies. Our assembly services are versatile and include Turnkey Consigned (/Kitted) and Partial Turnkey (/Combo) options that cater to your needs from prototyping to low to high-volume PCB assembly. Our capabilities range from through-hole technology (THT) to single-sided and double-sided surface mounting technology (SMT) assembly.
Our comprehensive in-house PCB Assembly Capabilities are designed to meet all your soldering requirements for rigid, metal core (IMS), flex, and rigid-flex PCBs. Learn all about PCB Assembly Capabilities, JHYPCB is a reliable source for you to learn more about PCB Assembly Capabilities.
One-stop PCB Assembly Services
At our company, we procure components from chip manufacturers worldwide, including Mouser, Digi-Key, Arrow Electronics, and other reputable suppliers. We also maintain a substantial inventory of commonly used parts in our warehouse. If we encounter difficulties in sourcing a specific component, our team of engineers can suggest alternative options that offer fair pricing.
Full Turnkey Assembly Services
JHYPCB offers comprehensive full turnkey PCB assembly services, including PCB fabrication, component sourcing, assembly, testing, and packaging, providing customers with a one-stop solution for their PCB assembly needs.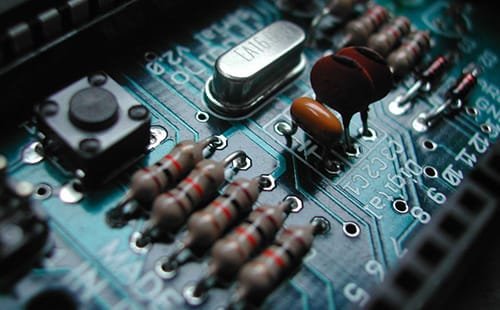 Partially Consigned Assembly
Partially consigned assembly means the customer provides some or all of the required components. While JHYPCB takes care of the PCB fabrication, assembly, testing to ensure a high-quality end product.
Consigned Assembly Service
The PCB designer provides all components. JHYPCB will fully assemble your printed circuit boards and ship them to you. Quick turnaround times are available, with fully transparent pricing.
Our Full PCB Assembly Services are as the Follows:
SMT Assembly
BGA Assembly
Through-hole PCB Assembly
Turnkey PCB Assembly
Consigned PCB Assembly
Cable Harness / Assembly
Lead-Free PCB Assembly
Flexible PCB Assembly
Rigid-Flex PCB Assembly
Small Quantity PCB Assembly
High-Volume PCB Assembly
PCB Assembly Rework
NPI: New Product Introduction (NPI)
SMT: Surface Mount Assembly, Single & Double-sided
Plated Through-hole: Selective Soldering
Mixed Technologies: SMT, Through-hole
Flying Probe Test (FPT)
Functional Test
Burn-in Test
First Article Inspection (FAI)
Solder Paste Inspection (SPI)
Automated Optical Inspection (AOI)
X-Ray Inspection
Visual Inspection
JHY PCB Assembly Capacity List​
Surface Mount Technology (SMT)
Through Hole Technology (THT)
Mixed PCB Assembly Technology
Single or double-sided Placement
Rigid PCB Boards
Flexible Circuit Boards
Rigid-Flex PCBs
Metal Core PCBs
Reflow Soldering
Wave Soldering
selective wave soldering
Manual Soldering

Full Turnkey
Partial Turnkey
Consigned/kitted
Smallest Components
Micro BGA
Fine Pitch Components
0201 chip packages
0.4 mm pitch BGA
0.4 mm fine pitch
Reels
Tube and tray
Cut tape
loose parts and bulk
Nano-coating Stencils
Laser-cut Stainless Steel Stencils
Automated Optical Inspection (AOI)
Manual Visual
X-Ray
Flying Probe testing
ICT Testing
Functional Testing
Burn-in Testing
Scheduled delivery
Assembly without components sourcing – 1-5 days
Turnkey assembly (sourcing+assembly) – 1-2 weeks
The final lead time for a circuit board assembly order is sourcing lead time +assembly time.
No minimum order quantity
Engineering prototypes PCB assembly
Low-volume PCB assembly
High-volume PCB assembly
Automated Optical Inspection (AOI)
Manual Visual
X-Ray
Flying Probe testing
ICT Testing
Functional Testing
Burn-in Testing
If you require PCB assembly services, it's important to choose a provider with a track record of delivering high-quality products, quick turnarounds, and a willingness to adopt new technologies. Understanding the capabilities of modern-day circuit board assemblers is key to narrowing down your options and finding the best electronic circuit board assembly service for your needs.
JHYPCB offers comprehensive PCB fabrication and assembly services, including advanced capabilities for printed circuit board assembly. As a trusted assembler, we offer competitive pricing for your entire project, including PCB assembly, manufacturing, component sourcing, IC programming, and functional testing.