PCB Electronic Manufacturing Services
JHYPCB is a leading manufacturer and assembly service provider of military-grade printed circuit boards. Our high-quality PCBs are designed to meet the stringent requirements of military and defense applications. Contact us today for PCB fabrication, assembly, testing, and customer support.
The Premier Military PCB Manufacturer
JHYPCB is a premier manufacturer and assembly service provider of military-grade printed circuit boards. At JHYPCB, we're committed to providing our customers with the highest quality PCBs designed to meet the strict requirements of military and defense applications.
Our experienced professionals are dedicated to delivering the best possible solutions for your military-grade PCB needs. We utilize the latest technology and equipment to manufacture and assemble your PCBs to the highest standards.
Whether you need a small batch of PCB prototypes or a large-scale production run, we have the expertise and resources to meet your needs. We offer a wide range of services, including PCB manufacturing, component sourcing, assembly, testing, and customer support.
Thank you for choosing JHYPCB as your PCB manufacturer and assembly service provider. We look forward to working with you to fulfill your military-grade PCB requirements.
Importance of PCB for Military Electronics
Printed Circuit Boards are an essential component of modern electronics, especially for military electronics. They provide an ideal platform for integrating complex circuits, allowing for smooth and effective communication between different components. PCBs are widely used in military electronics, including radars, defence systems, communication networks, and other critical systems.
The importance of PCB for military electronics lies in its reliability, durability, and precision. Military electronics are exposed to harsh environmental conditions, including extremes of temperature, shock, and vibration. As such, the PCBs used in military electronics must be designed to withstand these conditions while ensuring stable and effective performance. Defence systems require rugged PCBs that can withstand the rigours of battle while ensuring smooth communication and reliable data processing.
One of the key features that sets PCBs for military electronics apart from conventional PCBs is their ability to function under duress. Factors such as temperature extremes, mechanical stress, and exposure to radiation can all affect the performance of a PCB. To meet the needs of military electronics, PCBs must be designed to operate within tight tolerances, maintain signal integrity over long distances and withstand extreme temperature changes.
At JHYPCB, we understand the unique requirements of military electronics and offer high-quality PCBs that meet stringent military standards. We use only the highest quality materials and manufacturing methods to ensure that our PCBs meet or exceed all industry standards. With over 10 years of experience in the field, we have the expertise and knowledge needed to manufacture PCBs that are reliable, durable, and precise.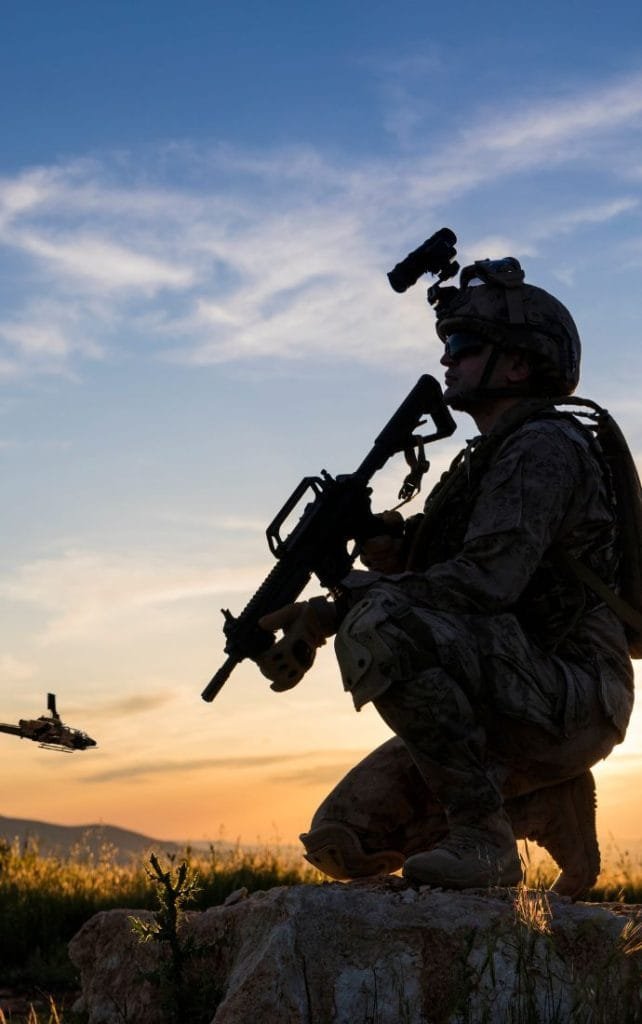 JHYPCB's PCB Manufacturing and Assembly Services
JHYPCB is a professional PCB manufacturer with a complete production line and advanced production facilities. We provide a range of PCBA and PCB manufacturing services, including handling complex PCBs, such as high-frequency, high-speed, multilayer, blind/buried via, half hole, BGA, CSP, and more. Additionally, we offer a variety of surface treatments, such as HASL, ENIG, OSP, Flash Gold, Immersion Tin, Immersion Silver, and more.
For PCB assembly, JHYPCB has multiple advanced SMT chip production lines and DIP plug-in lines, which can provide different types of PCB assembly services for various levels of difficulty, including 2D chip miniature components, SMD ICs, and BGAs. We can process up to 10 different orders simultaneously to meet the growing demands of various types of customers.
JHYPCB's manufacturing and assembly services have the following characteristics:
With the help of automatic production lines, JHYPCB can process multiple orders simultaneously and ensure production efficiency and product quality.
JHYPCB uses a fully automated control system to complete production, thereby avoiding human factors that could affect product quality.
JHYPCB has an excellent quality management system to ensure that every PCB and PCBA meets customer requirements.
JHYPCB's Process and Quality Control
JHYPCB places a great emphasis on process and quality control to ensure that our PCBs meet stringent military and industry standards. Our comprehensive process and quality control measures cover every stage of PCB production, including testing, inspection, and certification.
Testing is a crucial step in our process to ensure optimal functionality of our PCBs. We use advanced testing equipment, such as automated optical inspection machines, flying probe testers, and X-ray machines to detect potential problems such as short circuits, open circuits, and soldering defects.
Inspection is another critical part of our process, where we check the quality of the PCBs at different stages of production. We have a team of trained and experienced quality control engineers who carry out inspections at every stage to ensure that our products meet strict military and industry standards.
In addition to testing and inspections, we also implement a range of industry-standard certifications in our process to ensure compliance with military and industry standards such as IPC-6012 and MIL-PRF-55110. IPC-6012 is the industry standard for qualification and performance of rigid printed boards. JHYPCB is fully compliant with IPC-6012 and our PCBs meet the highest standards of quality and reliability. MIL-PRF-55110 is the military specification for single and double-sided printed circuit boards. Our production facility is equipped to meet the requirements of MIL-PRF-55110, ensuring that our PCBs are suitable for use in military and aerospace applications.
At JHYPCB, we have built a reputation for producing high-quality PCBs. Our comprehensive process and quality control measures ensure that our PCBs are reliable, durable, and meet the toughest military and industry standards.
I appreciate your interest in JHYPCB! If you need more information about PCB manufacturing and assembly services or want to learn more about how JHYPCB can meet your needs, please don't hesitate to contact us. You can reach our sales team by emailing sales@pcbjhy.com. We encourage you to contact us with your inquiries and requirements. We will be happy to provide you with the best PCB solutions possible!