HDI Technology PCB Prototype

HDI PCB (High Density Interconnector PCB), HDI Technology PCB is a circuit board having a relatively high line distribution density using the micro-blind and buried hole technology.

It is a process that includes an inner layer line and an outer layer line, then uses a hole and a metallization in the hole to realize a joint function between the inner layers of each layer.

With the development of high-density, high-precision electronic products, the same requirements are imposed on circuit boards. The most effective way to increase the density of pcb is to reduce the number of through holes, and to accurately set the blind holes and buried holes to achieve this requirement, thereby generating an HDI Technology PCB.

We offer low-volume, Prototype and Production PCB fabrication service, for HDI PCB, Rigid PCB, Flexible PCB, High Tg boards, etc. All project comes with satisfaction guarantee and on-time delivery.

The Concept

HDI: High Density Interconnection Technology. It is a multilayer board made by a build-up method and a micro-blind buried hole.

Micro-hole: In a PCB, a hole less than 6 mil (150 um) in diameter is called a micro-hole.

Buried Via: buried in the inner layer of the hole, not visible in the finished product, mainly used for the conduction of the inner layer line, can reduce the probability of signal interference, and keep the continuity of the characteristic impedance of the transmission line. Since the buried via does not occupy the surface area of the PCB, more components can be placed on the surface of the PCB.

Blind Via: connecting the surface layer and the inner layer without passing through the full-board via holes.

Key HDI PCB Benefits

The evolution of high-density PCB technology has given engineers greater design freedom and flexibility than ever before. Designers using HDI high density interconnect methods now can place more components on both sides of the raw PCB if desired. In essence, an HDI PCB gives designers more space to work with, while allowing them to place smaller components even closer together. This means that a high-density interconnect PCB ultimately results in faster signal transmission along with enhanced signal quality.

HDI PCB is widely used to reduce the weight and overall dimensions of products, as well as to enhance the electrical performance of the device. The high-density PCB is regularly found in mobile phones, touch-screen devices, laptop computers, digital cameras and 4G network communications. The HDI PCB is also prominently featured in medical devices, as well as various electronic aircraft parts and components. The possibilities for high-density interconnect PCB technology seem almost limitless.

HDI Printed Circuit Boards Structures:
1) HDI PCB (1+N+1)
Features:
Suitable for BGA with lower I/O counts
Fine line, microvia and registration technologies capable of 0.4 mm ball pitch
Qualified material and surface treatment for Lead-free process
Excellent mounting stability and reliability
Copper filled via
Application: Cell phone, UMPC, MP3 Player, PMP, GPS, Memory Card
1+N+1 HDI PCB Structure: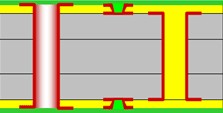 2) HDI PCB (2+N+2)
Features:
Suitable for BGA with smaller ball pitch and higher I/O counts
Increase routing density in complicated design
Thin board capabilities
Lower Dk / Df material enables better signal transmission performance
Copper filled via
Application: Cell phone, PDA, UMPC, Portable game console, DSC, Camcorder
2+N+2 HDI PCB Structure: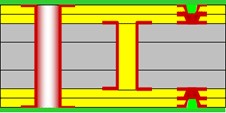 3) ELIC (Every Layer Interconnection)
Features:
Every layer via structure maximizes design freedom
Copper filled via provides better reliability
Superior electrical characteristics
Cu bump and metal paste technologies for very thin board
Application: Cell phone, UMPC, MP3, PMP, GPS, Memory card.
Every Layer Interconnection Structure: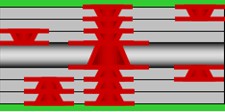 Benefits of using HDI Printed Circuit Boards
As consumer demands change, so must technology.
By using HDI technology, designers now have the option to place more components on both sides of the raw PCB.
Multiple via processes, including via in pad and blind via technology, allow designers more PCB real estate to place components that are smaller even closer together.
Decreased component size and pitch allow for more I/O in smaller geometries. This means faster transmission of signals and a significant reduction in signal loss and crossing delays.
HDI Technology PCB Prototype fabrication manufacturer
HDI Technology PCB, one of the fastest growing technologies in PCBs, are now available at JHY PCB whatever PCB Prototyping or Express HDI PCB .HDI Boards contain blind and/or buried vias and often contain microvias of .006 or less in diameter.
Find a HDI PCB Manufacturer and Supplier. Choose Quality HDI PCB Manufacturers, Suppliers, Exporters at pcbjhy.com.Welcome to send your design to us.
Looking for ideal HDI PCB Market Manufacturer & supplier ? We have a wide selection at great prices to help you get creative. All the HDI PCB Cost are quality guaranteed. We are China Origin Factory of HDI PCB Price. If you have any question, please feel free to contact us.
Product Categories : HDI PCB