2 Layer/Double layer Flexible PCB

Flexible circuit boards, Flexible PCB are certainly useful, but they are not going to replace rigid circuit boards for all applications. Cost efficiency is the main obstacle to implementing an exclusively flexible circuit board design in a consumer product. Rigid circuit boards are less expensive to manufacture and install in a typical automated high-volume fabricating facility.
Double layer flexible circuit board signifies that there are two layers of copper circuitry. In most cases, the two layers of copper are electrically connected by drilling small holes through the copper circuits and the separating dielectric, then plating the holes with copper to make a connection between them.


Typically, the ideal solution for an innovative product is one that incorporates flexible circuitry when necessary, and employs solid, reliable rigid circuit boards where possible to keep manufacturing and assembly costs down.
Construction for Double Layer Flexible Circuit Board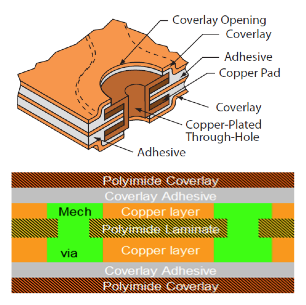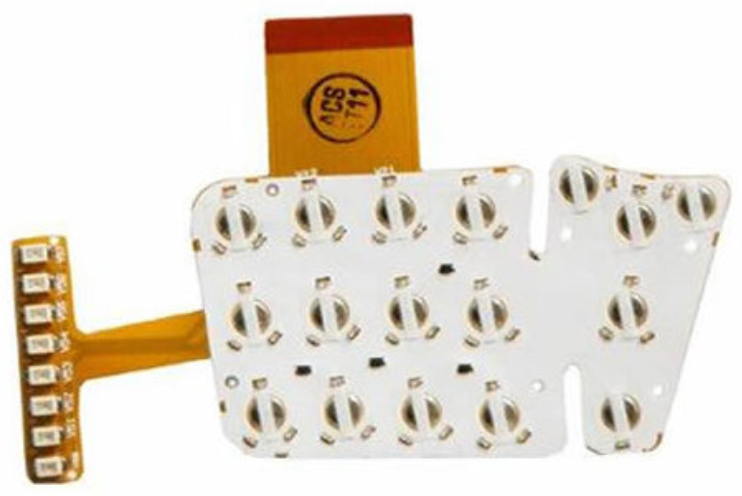 The application for this double layer flex circuit is a keypad used on a hand held device. There are components assembled on the flex: a ZIF (zero insertion force) connector interface and LEDs (light emitting diodes).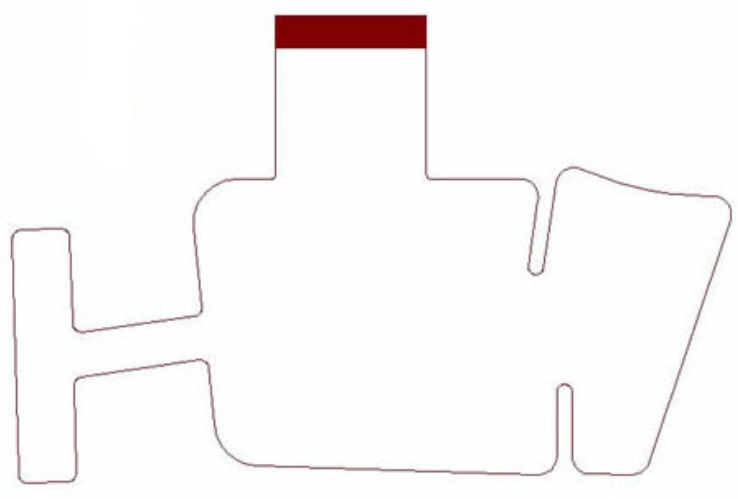 Top Stiffener - Stiffeners are created to give flex circuits rigid areas where required. Stiffeners in most instances are made of Printed Circuit Board, but can also be metal, ceramic and even additional layers of polyimide.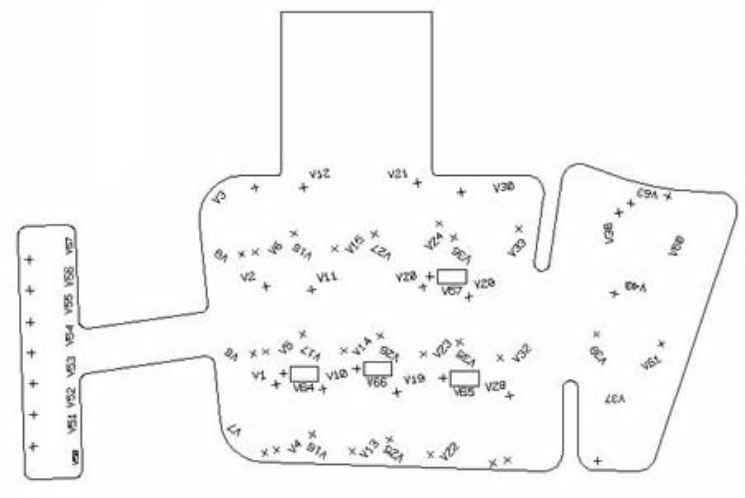 Top Silkscreen - The images will be printed onto the top of the finished circuit with indelible ink. This assists with component placement.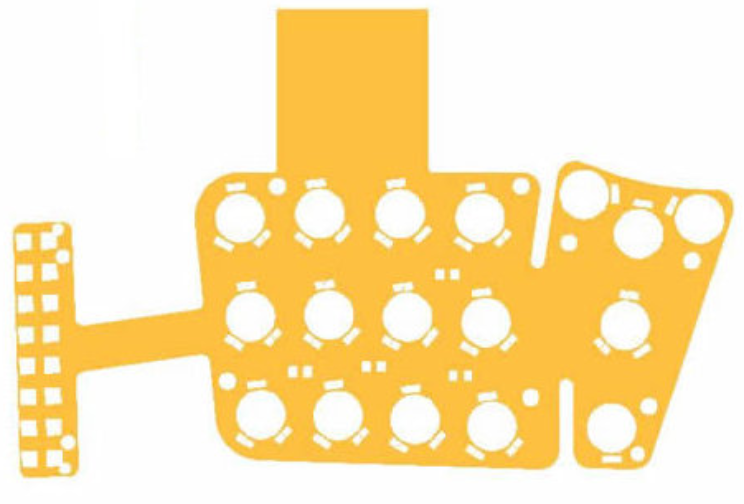 Top Coverlay - This is the top polyimide cover that adheres to the first layer of etched copper.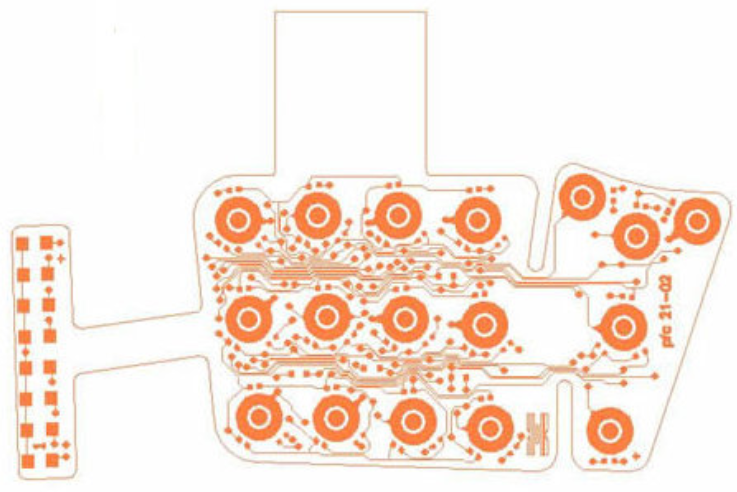 Layer 1 - This is the first layer of copper that PFC will etch.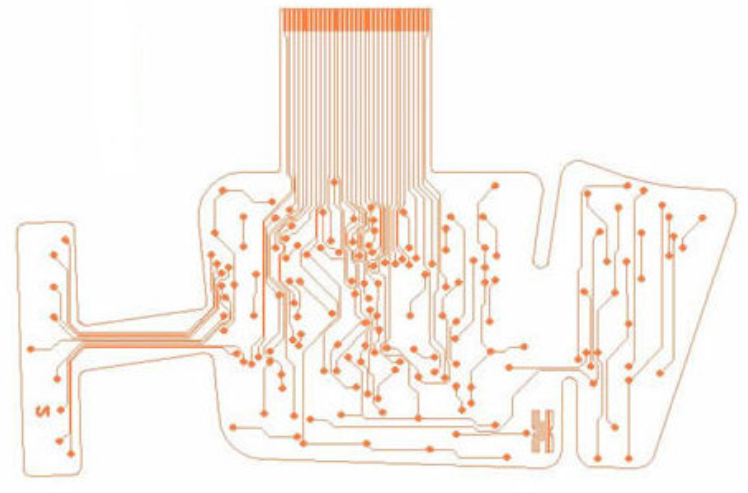 Layer 2 - This is the second layer of copper to be etched. There will be a layer of dielectric material between the layers of copper.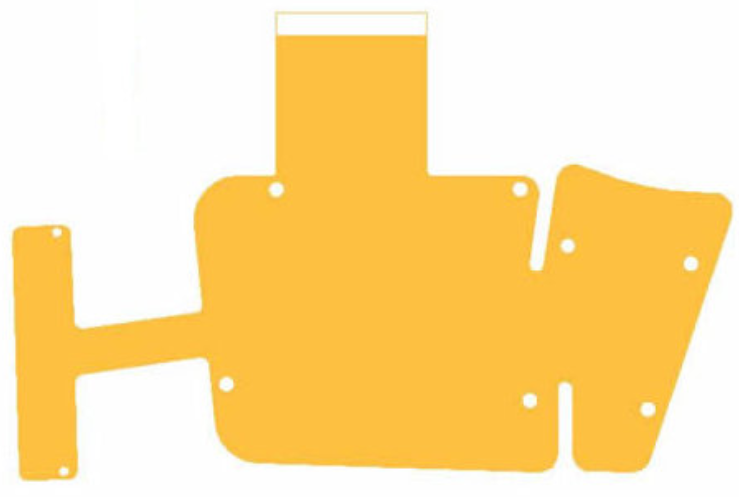 Bottom Coverlay - The bottom coverlay is the polyimide dielectric material that covers the second layer of copper. The circuit is now encapsulated on top and bottom with polyimide.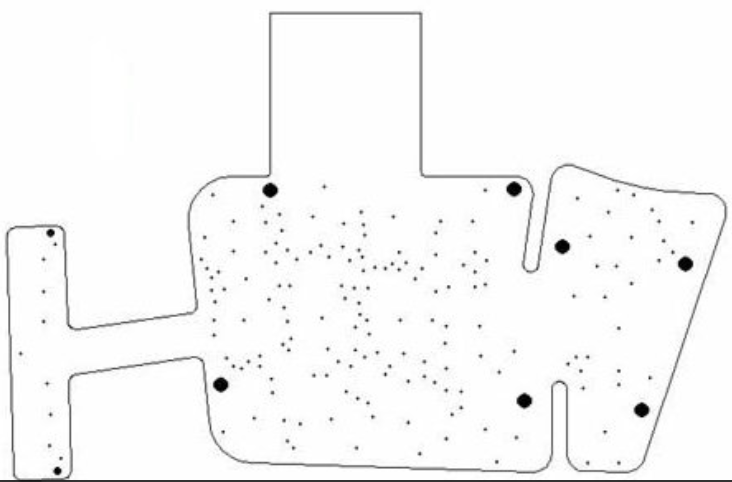 Drill File - The drill file designates the location of the holes to be drilled in the circuit. The circuit layers (copper and coverlays) will be pressed together, drilled, then run through plating to put copper in the holes and make connections from the top copper layer to the bottom.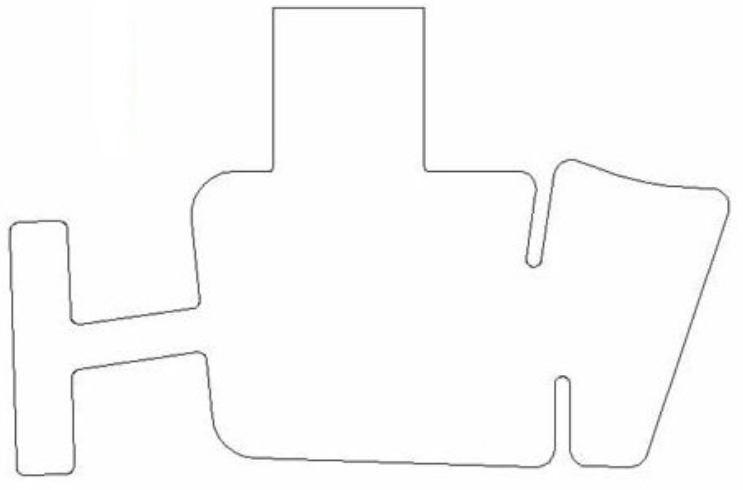 Outline - PFC`s flex are manufactured in 18"x12" or 18"x24" panels. We fit as many parts as possible on a panel then use a punch/die to cut the parts from the panel. This is the artwork for the tooling die to cut the part from the panel.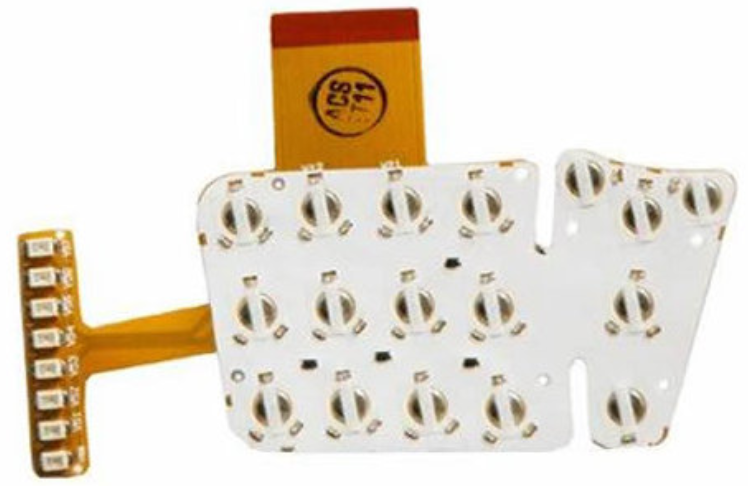 Completed Circuit - There are additional steps to making a circuit, such as plating, etching, pressing, electrical test, inspection and assembling that are not shown in the artwork slides.

China Flexible PCB Manufacturer
Find a Flexible PCB Manufacturer and Supplier. Choose Quality Flexible PCB Manufacturers, Suppliers, Exporters at PCBJHY.com

JHY PCB specialized manufacturers from China, Flex PCB , Flexible Printed Circuit suppliers/factory, wholesale high-quality products of Flexi Circuits and manufacturing, we have the perfect after-sales service and technical support. Look forward to your cooperation!
In addition to providing high-quality products, we sincerely reduce the cost of products and provide cheaper prices for our customers in order to make them feel very satisfied.
Products & Services
Quick Turn PCB
Rigid PCB
Flexible PCB
Rigid-flex PCB
Aluminum PCB
PCB Stencil
Multilayer PCB
What is Flexible PCB?
Flexible Circuits (also variously referred to around the globe as flex circuits, flexible Printed Circuit Boards, flex print, flexi-circuits) are members of electronic and interconnection family. They consist of a thin insulating polymer film having conductive circuit patterns affixed thereto and typically supplied with a thin polymer coating to protect the conductor circuits.
The technology has been used for interconnecting electronic devices since the 1950s in one form or another. It is now one of the most important interconnection technologies in use for the manufacture of many of today's most advanced electronic products.
In practice there are many different kinds of flexible circuits, including one metal layer, double sided, multilayer and rigid flex circuits. The circuits can be formed by etching metal foil cladding (normally of copper) from polymer bases, plating metal or printing of conductive inks among other processes.
Flexible circuits may or may not have components attached. When components are attached, they are considered by some in the industry to be flexible electronic assemblies.
2 Layer Flexible PCB Fabrication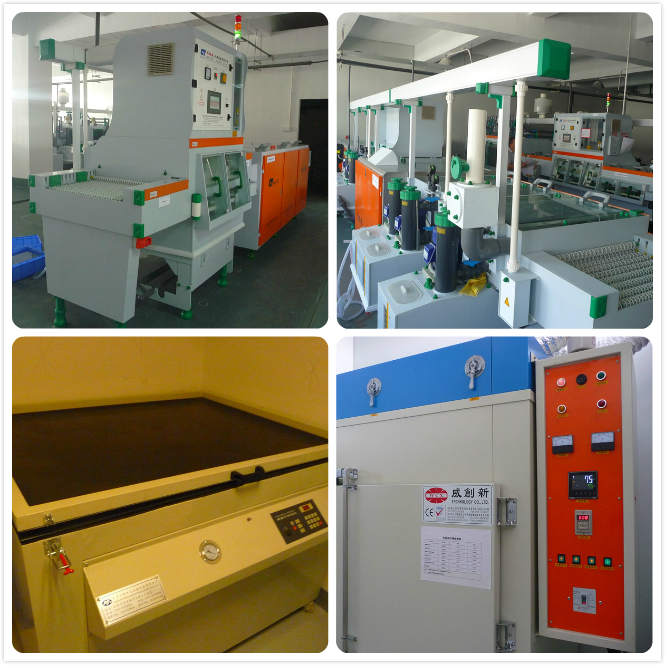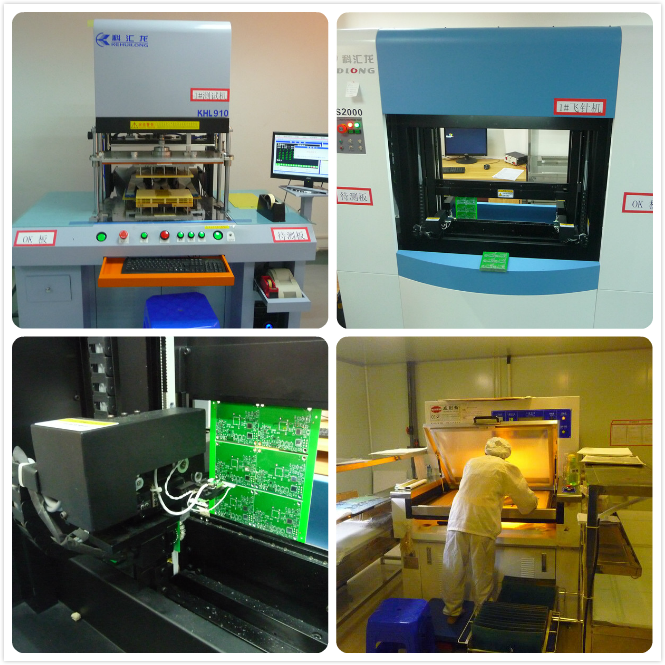 Flexible PCB Manufacturing Capability
Learn more about JHY PCB by exploring the manufacturing capability of Flexible PCB below. We can do more than you can imagine.
Items
Manufacturing Capability
PCB Layers
1 - 8layers
Laminate
DuPont PI, Shengyi PI
Maximum PCB Size(Length x Width)
Single Sided PCB
480*4000mm
Double Sided PCB
480*1800mm
Multilayers
236*600mm
Minimum Board Thickness
Single Sided PCB
0.05mm+/-0.02mm
Double Sided PCB
0.08mm+/-0.02mm
Multilayers
As per Gerber
Finished Board Thickness
1-6L
0.05mm-0.6mm
8L
1.6mm
Min Tracing/Spacing
Copper Thickness 1/3 oz:
0.076mm/0.076mm (1-6L)
0.05mm/0.05mm (8L)
Copper Thickness 1/2 oz:
0.076mm/0.076mm (1-6L)
0.06mm/0.06mm (8L)
Copper Thickness 1oz:
0.1mm/0.1mm (1-6L)
0.065mm/0.065mm (8L)
Min. Annular Ring
4mil
Minimum Hole Size
1-6L
0.2mm(8mil) (CNC)
8L
0.15mm(CNC)
Solder Mask Color
Green, White, Blue, Black, Red, Yellow
Solder-stop coating---Coverlay
PI and PET film


Silkscreen Color
White, Black, Yellow


Surface Finish
OSP
e HASL
ENIG(Electroless NickLead-Freeion Gold)
Ni thickness:2-6um
Au thickness:0.025-0.05um
Flash Gold
Ni thickness:2-8um
Au thickness:0.025-0.15um
Immersion Tin
Tin thickness:0.5-1um
PlatingTin
Tin thickness:1-10um
Laser cuPunching
Special technologies
Peelable solder mask
Gold fingers
Stiffener (only for PI/FR4 substrate)
Impedance Control+/-10%
Rigid Flex PCB
Looking for ideal Flexible PCB Board Manufacturer & supplier ? We have a wide selection at great prices to help you get creative. All the Flexible PCB Boards are quality guaranteed. We are China Origin Factory of Flexible Circuits Inc. If you have any question, please feel free to contact us.
Product Categories : Flexible PCB