Introduction
Flexible PCB also referred to Flexible Printed Circuit (FPC) was designed for replacing the traditional wire harnesses. Flex PCB consists of a thin insulating polymer film having conductive circuit patterns affixed thereto and typically supplied with a thin polymer coating to protect the conductor circuits. Flexible Circuit Board is widely used for automotive, medical, telecom, industrial or commercial, etc.

Advantages
Printed Circuit Board assembly mistake reduction.

Decreased PCBA time and cost.

Free FPC design.

Flexible Installation.

More reliable and durable.

Smaller packaging size and weight.
Applications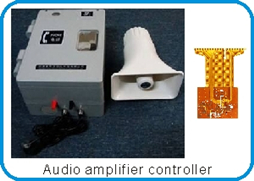 HASL(Hot Air Solder Leveling)Lead FreOutline WayPunching
Items

Manufacturing

Capability

PCB Layers

1 - 8layers

Laminate

DuPont PI, Shengyi PI

Maximum PCB Size(Length x Width)

Single Sided PCB

480*4000mm

Double Sided PCB

480*1800mm

Multilayers

236*600mm

Minimum Board Thickness

Single Sided PCB

0.05mm+/-0.02mm

Double Sided PCB

0.08mm+/-0.02mm

Multilayers

As per Gerber

Finished Board Thickness

1-6L

0.05mm-0.6mm

8L

1.6mm

Min Tracing/Spacing

Copper Thickness 1/3 oz:

0.076mm/0.076mm (1-6L)

0.05mm/0.05mm (8L)

Copper Thickness 1/2 oz:

0.076mm/0.076mm (1-6L)

0.06mm/0.06mm (8L)

Copper Thickness 1oz:

0.1mm/0.1mm (1-6L)

0.065mm/0.065mm (8L)

Min. Annular Ring

4mil

Minimum Hole Size

1-6L

0.2mm(8mil) (CNC)

8L

0.15mm(CNC)

Solder Mask Color

Green, White, Blue, Black, Red, Yellow

Solder-stop coating---Coverlay

PI and PET film




Silkscreen Color

White, Black, Yellow




Surface Finish

OSP

e HASL

ENIG(Electroless NickLead-Free Gold)

Ni thickness:2-6um

Au thickness:0.025-0.05um

Flash Gold

Ni thickness:2-8um

Au thickness:0.025-0.15um

Immersion Tin

Tin thickness:0.5-1um

PlatingTin

Tin thickness:1-10um

Laser cuPunching

Special technologies

Peelable solder mask

Gold fingers

Stiffener (only for PI/FR4 substrate)

Impedance Control+/-10%

Rigid Flex PCB