10 Layer PCB Stack Up thickness, Design and manufacturing
Usually, 10 layer PCB is HDI board, but some are not.
10 Layer PCB Stack Up And Design
Regardless of the number of layers constituting the circuit board design, pad spacing, clearance, trace widths, copper weights and drill hole sizes must be tailored to your contract manufacturer (CM). If your design requires multiple layers, you need to consider additional DFM specifications for signals through vias, power and ground wiring, and PCB stackup.

For 10-layer PCB Manufacturing, it is necessary to determine the number of layers, their arrangement or stacking, and the type of material. These choices require coordination between thickness constraints; material parameters; such as dielectric constant, thermal expansion coefficient and electrical strength; signal type isolation and drilling options. For PCB Assembly, wiring options and their impact on welding process are very important. The function of CM limits the choice of vertical aspect of design.

When your PCB needs six layers of routing, you should choose to use ten layers of PCB. Because ten-layer circuit boards usually have six signal layers and four planes. Of course, we do not recommend the design of more than six signal layers on the 10-layer circuit board. Ten layers are also the largest number of layers, which can be easily manufactured on 0.062 inch thick sheets. Occasionally you will see a 12-layer PCB made of 0.062 inch thick board, but there are not many manufacturers who can make 12-layer circuit boards. Just right, besides making 10-layer circuit boards, we also have very rich experience in manufacturing 12-layer circuit boards.

High layer count boards (10 +) require thin dielectrics (usually 0.006 or smaller on 0.062 thick plates), so they are automatically tightly coupled. After stacking and wiring properly, they can meet all our goals and have excellent EMC performance and signal integrity.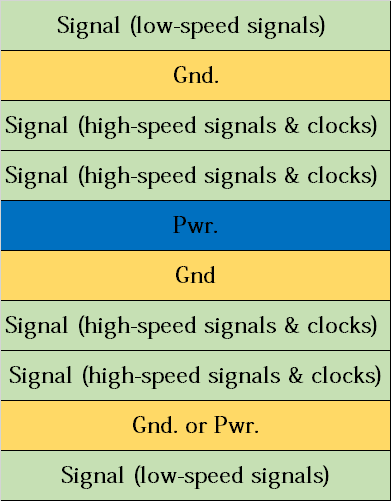 This is a very common and nearly ideal 10 layer PCB stack up.
The reason why this stack has such good performance is the tight coupling between signal and return plane, the existence of high-speed shielding signal layer, multiple grounding layers, and tightly coupled power supply/grounding layer pairs in the center of circuit board.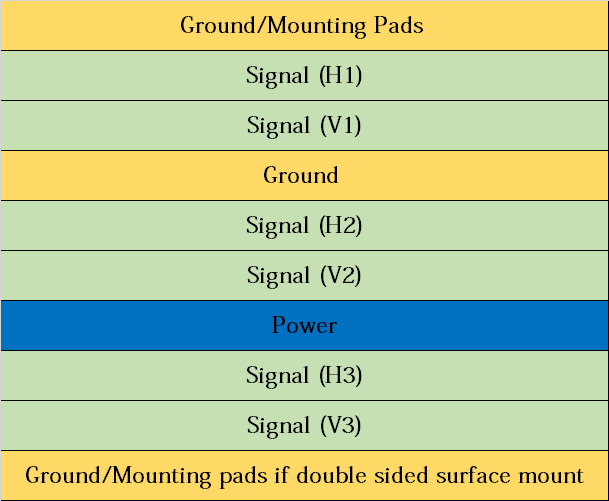 Another possible stack up of 10 layer PCB
This 10-layer PCB stacking up method abandons closely spaced power/ground pairs. In return, it provides three signal routing layer pairs, shielded by the ground layer on the outer layer of the board, and isolated from each other through the internal power supply and the ground layer.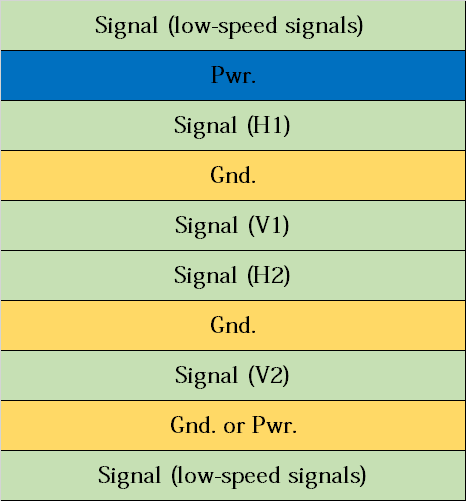 10-layer PCB stackup with two external low-frequency routing layers
This 10-layer PCB stackup allows the routing of orthogonal signals near the same plane, but in the process, the closely spaced power/ground plane must also be abandoned.
In addition, we list some other stacking methods of 10-layer circuit boards for your reference.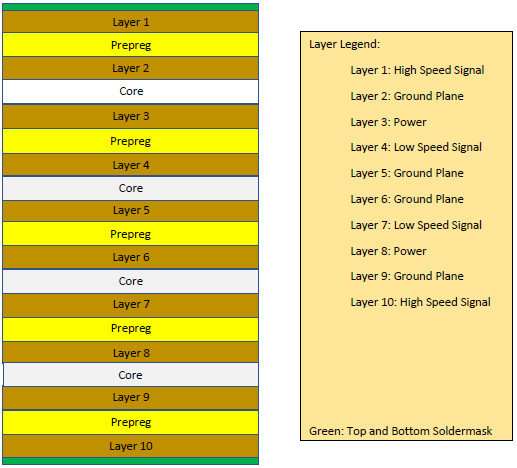 ---
10 Layer PCB Thickness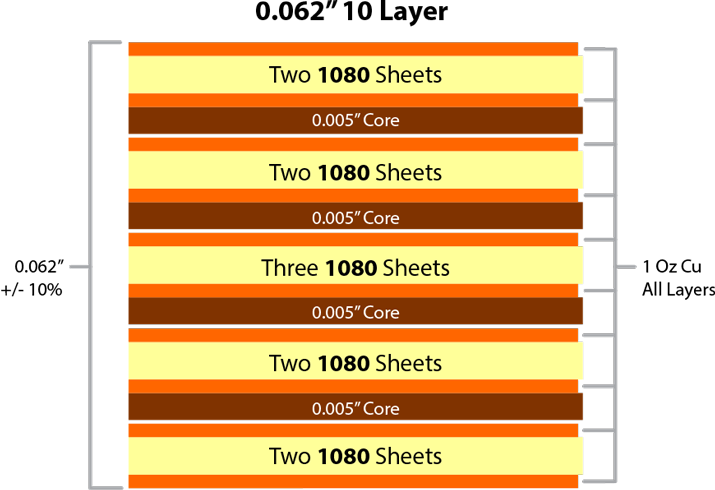 0.062''10 Layer PCB Stackup thickness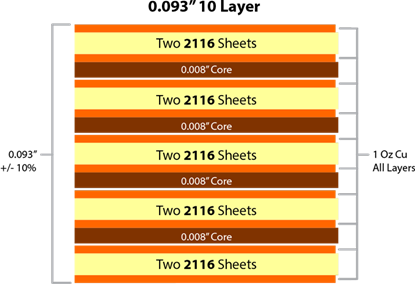 0.093'' 10 Layer PCB Stack UP thickness
10 Layer Stackup - 1.6mm thickness
layer order
layer name
material type
material description
dielectric constant
thickness
copper weight
1
top
copper
signal
0.035mm
1 oz
7630
prepreg
4.7
0.2mm
2
inner 1
copper
plane
1 oz
core
4.6
0.2mm
3
inner 2
copper
plane
1 oz
2116
prepreg
4.5
0.12mm
4
inner 3
copper
plane
1 oz
core
4.6
0.2mm
5
inner 4
copper
plane
1 oz
2116
prepreg
4.5
0.12mm
6
inner 5
copper
plane
1 oz
core
4.6
0.2mm
7
inner 6
copper
plane
1 oz
2116
prepreg
4.5
0.12mm
8
inner 7
copper
plane
1 oz
2116
prepreg
4.6
0.2mm
9
inner 8
copper
plane
1 oz
7630
prepreg
4.7
0.2mm
10
bottom
copper
signal
0.035mm
1 oz
Final board thickness: 1.6mm±0.16mm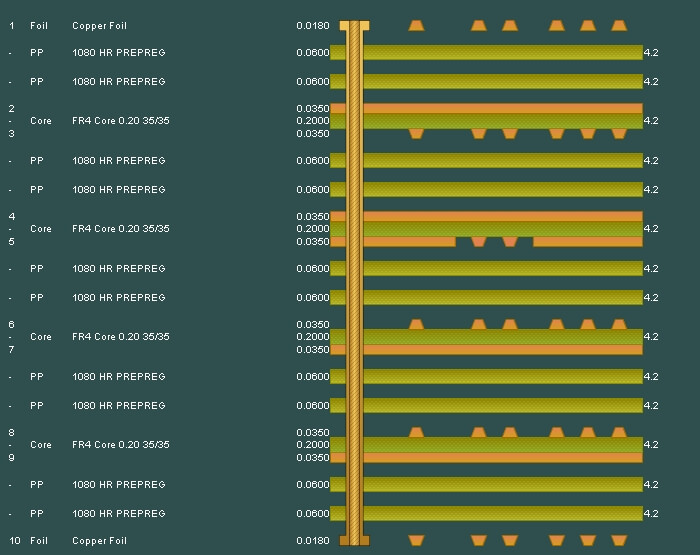 ---

With the rapid development of today's increasingly complex multi-layer PCB, machines and equipment in various industries - commerce, industry, medicine, government, Aerospace - continue to grow in terms of speed, capacity, compactness and ease of use.

8, 10 and 12 layers of multi-layer PCB are useful in many high-tech equipment and computer systems. In recent decades, the development of multi-layer Printed Circuit Boards has led to the rapid development of computer technology - from the previous Gigabit system to today's GHz machine.

Especially 10-layer PCB, which is widely used in the following industries: Preamplifier, Satellite Dish, GPS Tracking Devices, SAN Storage, AC Drives, GSM Signal Booster, Mobile Broadband Router, Inverter 220V, Memory Module, Automotive dashboards


---
Cheap 10 Layer PCB manufacturing services
For customized printed circuit boards, our 10-layer PCB offers the fastest turning time for the best price we can offer. For on-demand pricing and ordering of your next Printed Circuit Board project, you can contact our online customer support or send us an email to get 10-layer PCB quotation immediately.